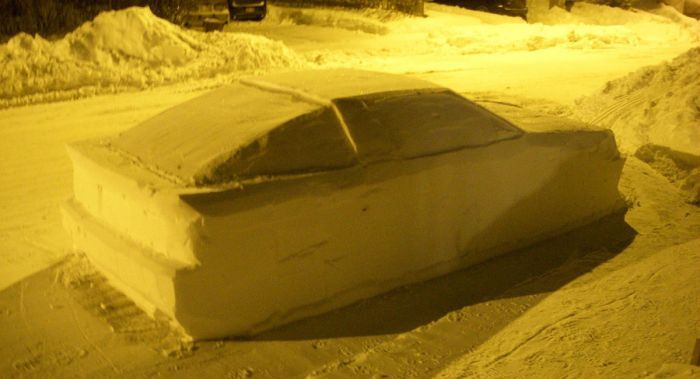 Man (n) mus say we will not become adult over time but just older. Our toys are still the same as they were then, just a little more expensive.
Especially now for the cold winter season and the snow that lies in some regions man goes after his required duties. Whether it's about shoveling the sidewalk and the garage entrance (to take advantage of the opportunity to look for his favorite car of course), riding a sleigh with your children (typically man pulling a car, of course) or just a snowman builds.
Simon Laprise from Montreal - Canada also seems to be very talented and perhaps a bit crazy, the small snowdrift in front of his door was enough to make a Toyota Supra (similar) MK3 out of it. The windshield wiper found nearby made the creation perfect. A masterpiece!
This also found the rushed in place police to give the "Falschparker" a message. But unlike some police in other countries or states, Montreal police seem to appreciate this work and enjoy the creative power.
Nevertheless, the police packed the traffic ticket on the windscreen with the text: " You made our day hahahahaha "