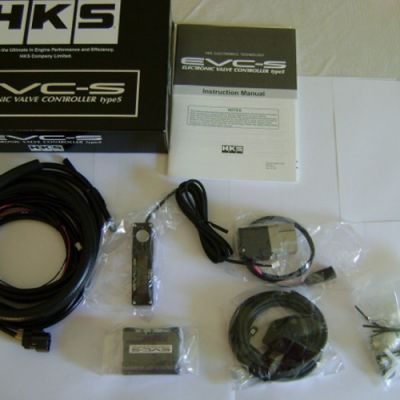 Facebook Twitter Pinterest Whatsapp
I installed the mentioned Boostcontroller a few weeks ago and as always I took a lot of pictures. And where would be better off than here, so follows a small installation instructions in the Supra. Is not a big effort, but the installation of electrical / electronic components is certainly not for everyone. Therefore, I hope that maybe one or the other can be useful.
The EVC-S is currently the most up-to-date boost controller from HKS and a simplified and sleeker yet high quality alternative to the regular EVC5.
http://www.hksusa.com/products/?id=3723
http://www.hksusa.com/products/more.asp?id=3723
Overview: Installation in the 2JZ-GTE
Here we go! Installation of the electrical system
Installation of the hardware
Serial Turbo / BPU settings
There are 5 different parameters that must be set for the two storable setups A and B.

Off Set Value
0-100% .... the higher the value, the higher the boost pressure. So that's the duty cycle of the wastegate.
- Starts at 30-40% and then increases step by step according to the desired boost pressure

Response Value
0-100% ... the higher the value, the faster the boost pressure is built up but the greater the danger that the regulation overshoots (boost pressure peaks).
- Posted on 25%

Over boost value
0-250kPA or 0-36PSI ... is the value from which boost pressure control becomes active.
- adjusted to 20kPa (0,2bar)

Warning Value
0-250kPA or 0-36PSI ... warning threshold at which the warning buzzer becomes active and the boost pressure is reduced. When the warning value is reached, the parameter "Off Set Value" is reduced by the value "Drop Value".
- Set, for example, to 125kPa (1.25bar) in Setup A and 150kPa (1.5bar) in Setup B

Drop Value
0-100% ... The percentage by which the offset value is reduced when the warning value is exceeded.
- Posted on 100%